A trip up the River Wey Navigation and back
We had just had a night in Walton Marina where we left off last time, bristling with 100% State of Charge on our battery bank and full of water.
We made our way back up river to Shepperton Lock, where we turned left onto the Wey Navigation, which would lead us to Guildford and beyond. 
Once again, it had been 18 years since we had last visited, on that memorable journey from Limehouse Basin (above Tower Bridge) all the way up the Thames through the centre of London. What a trip!
Thames Lock is the first you encounter of the 16 locks on the Wey and it is always manned by Lock Keeper(s).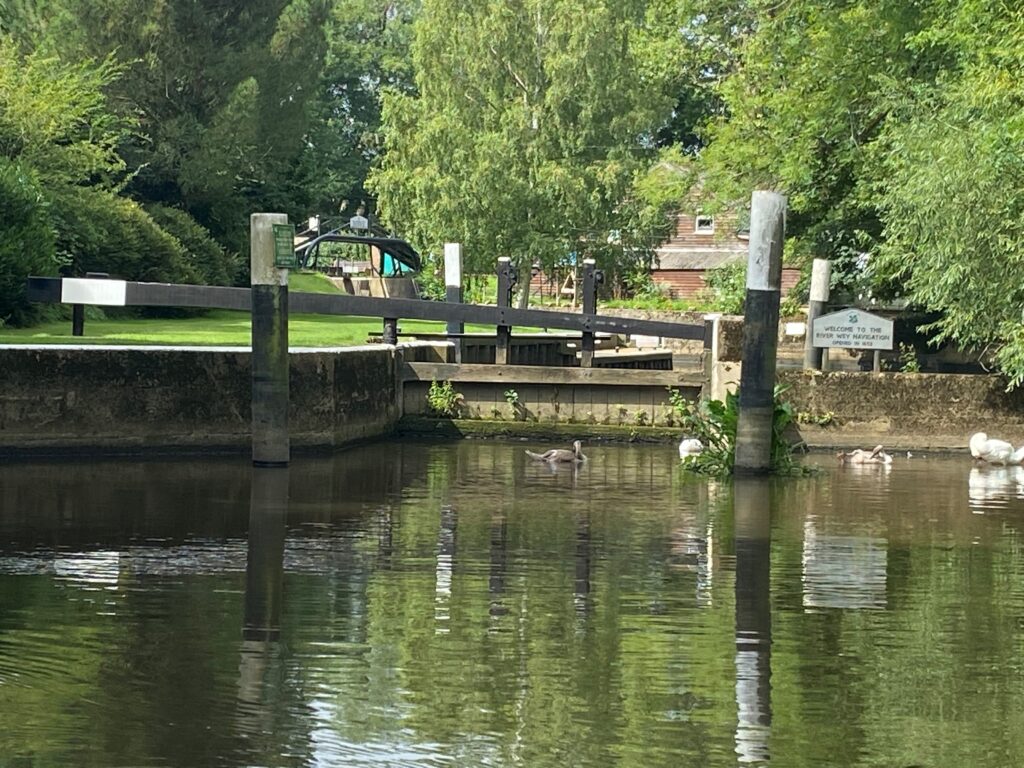 The Wey Navigation was built almost 100 years before "Canal Mania" took hold in the late 17th to early 18th century. Indeed it was one of the first rivers to be made navigable.
It is now managed by the National Trust and a separate licence is payable. It's not cheap, but we did at least get a 10% discount for being an electric boat. The prices are shown here. We opted for a 7 day licence, which turned out to be just about right for our purposes.
But back to Thames Lock. All craft over 1' 9" in draft have to inform the lock keeper. He will then fill the short pound before you can proceed through to Thames Lock.
You pay for your licence and receive your special River Wey windlass (or lock key). They are heavy brutes! You also receive a very comprehensive information pack, including navigation notes for each lock, information about mooring spots and the location of shops and other services. Very handy indeed.
The lock-keeper also showed us the yellow pegs, which he recommended we tie up to at every lock, to stop the boat surging forward when the paddles are opened. It's counter-intuitive to actually tie off in a lock, but they certainly do the job.
Once through the lock, we set off up the navigation, starting with the very tricky Weybridge Town lock, which is set on a right hand turn under a very low bridge. It's impossible to see whether another boat is coming out of the lock, so crew have to be despatched to check before you make your approach and entry.
We passed through the very picturesque Coxes Lock, site of an ex-flour mill, with quite an interesting history. It also rejoices under the "tallest non-ecclesiastical/civic building in South-East of England outside London pre-dating about 1880" title! Coxes Lock itself holds the "deepest unmanned lock on the Wey" title, too. Impressive all round then!
By this time, we were starting to get a little peckish and moored at The Pelican for a spot of lunch. And there we saw a very unusual craft. Unusual full stop but even more so outside Wales. It was a coracle! A modern one, fashioned from yellow waterproof material, rather than the more traditional tarred animal hide. But a coracle nonetheless. Very interesting to watch.
After lunch, we pottered on and decided to see if we could get a berth in Pyrford Marina, which would be the ideal place to spend the night and a great place to meet the friends who were arriving for a repeat visit the next day. 
It was good news – they had a berth for us but it did involve a careful reverse in again! The boats are quite tightly packed in but with no pontoons between them.
We had a quiet night and then it was Sunday and time to clean the boat inside and out until it was ready for us to receive our guests. By the way – we do, obviously, clean the boat at other times, but it's too boring to mention!
I also made a banana cake and a batch of jam tarts and was shattered by the time they turned up!
They arrived late afternoon and we pitched their stuff in and set off for a short cruise, before returning to Pyrford for one more night.
We went back upstream to the entrance to the Basingstoke canal, which we had originally planned to do but decided to leave until our next trip around these parts. It looks very weedy indeed at the moment. Although the Wey is suffering from a surfeit of Floating Pennywort (Hydrocotyle ranunculoides) too.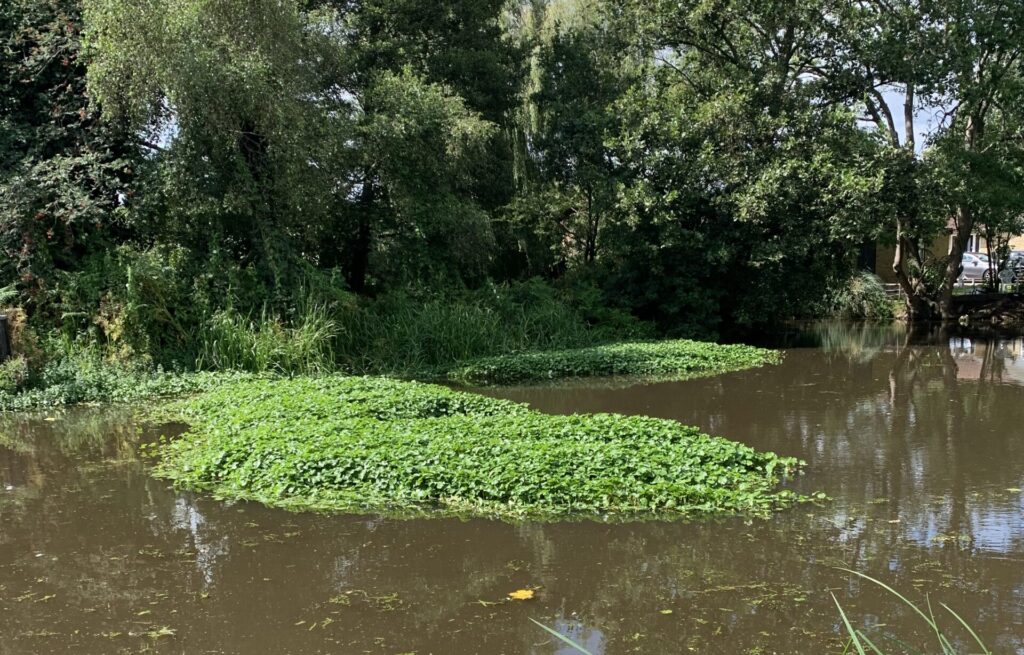 Floating Pennywort is a plant that is not native to this country, being from the Americas. It has been introduced to our waterways by people dumping it from ornamental ponds, it's reckoned. And it forms vast mats, which choke other plants, reduces oxygenation and is not great for boats as its intertwined roots get caught round your prop.
We turned round in the mouth of the Basingstoke with road roar from the nearby M25 ringing in our ears and then it was home to Pyrford, dinner ( a very tasty lasagne) and bed. 
We set off on Monday morning with some excitement. It was great to have our pals Sue and Paul back on board and the boys seemed very happy to see lovely Lulu again.
Sue and Paul had been with us on our last trip down the Wey, but we had all forgotten just how beautiful it was, so it was a joy.
As we were waiting to go through Triggs lock, the water from the emptying lock pushed us over to the other side where we went firmly aground. Luckily, we had been locking up with a gentleman aboard his beautiful trad boat, Lily, who very kindly towed us off. Disaster (and a little embarrassment) averted. It turned out that we had met him before, when moored above Cropredy lock on the Oxford canal back in June. Small world.
Karma is a strange thing because a short while later, we rounded a corner to find him firmly aground by a strong weir. It was thus our turn to assist and we towed him off to the relative safety of the centre of the stream. A happy ending, so to speak.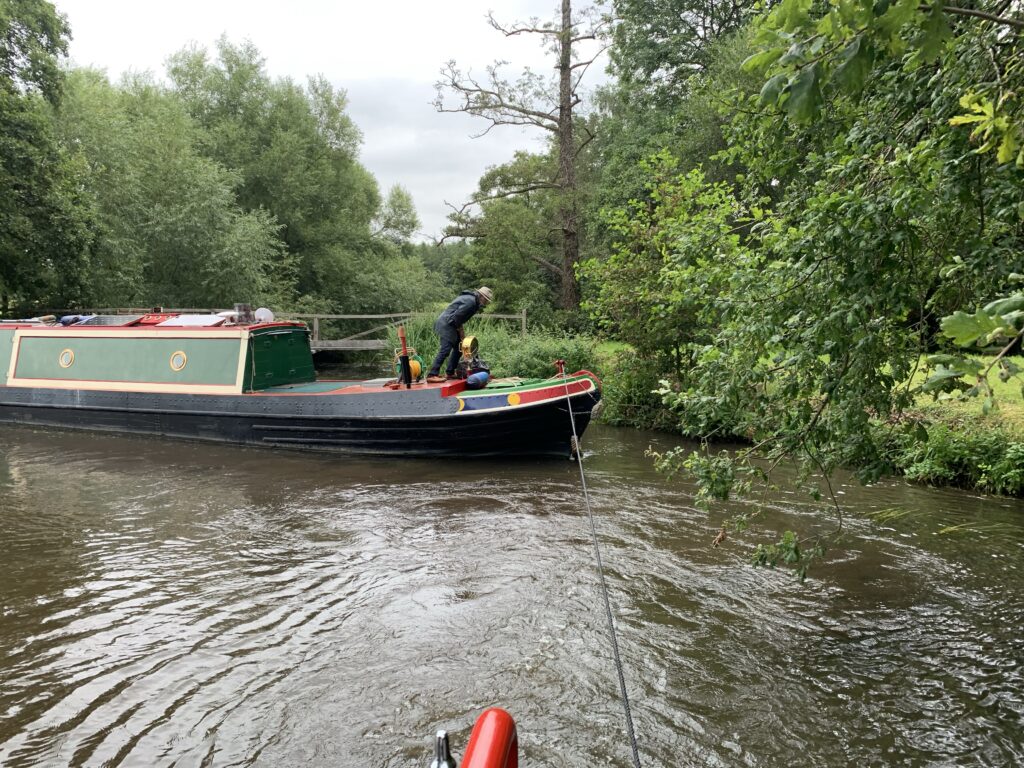 We continued our journey to the end of the navigation on Wednesday, passing through Guildford and mooring just above Godalming near the very low Broadbridge iron bridge, which carries the A248 across the navigation.
Most evenings were spent with Paul R fishing (very little success) until he could no longer see his waggler (matron!) and the remaining three of us playing "The Game" (also very little success!).
By the way – a waggler is a type of float often used on canals. In contrast to a stick float, which is attached at the top and bottom with rubbers, a waggler is attached at the bottom only. The line goes through an eye or swivel at the base, and is usually locked in place by split shot. So now you know!
We arrived in Godalming on Thursday morning (19th August) and despatched half the crew to the very handy Sainsers whilst the other half watered. The provisioning crew arrived back with the EEC cake mountain! Cake galore you might say!
We turned around, bid the gent on N/B Lily a fond farewell and set off back down river towards the Thames, spending our last night on the Wey just above Coxes lock.
I should mention at this point that Paul R had by now, scored a bag of maggots off a passing boater. I hate the flipping things and would use bread as bait rather than have them anywhere near my lovely boat. Mr R is very lucky they were not pitched over the side, along with his good self, for bringing the disgusting things aboard.
All of which leads me to another amusing anecdote. Picture us, rumpled from our slumbers and sleepy-eyed arising and unmaking the bed. As we did so, Paul said "Eeew" and picked up a fat and wriggling maggot, upon which he had clearly been lying all night. Gross!
We could only assume that one had secreted itself in a fold of Paul R's jacket and fallen off when he'd transferred the bedding bag to us the previous night. Maggots? NEVER AGAIN.
We made our way back onto the Thames, up through Shepperton Lock and as far as Runnymede, where we had moored earlier in our voyage, with Bruce and Lenny. Very peaceful and quite beautiful.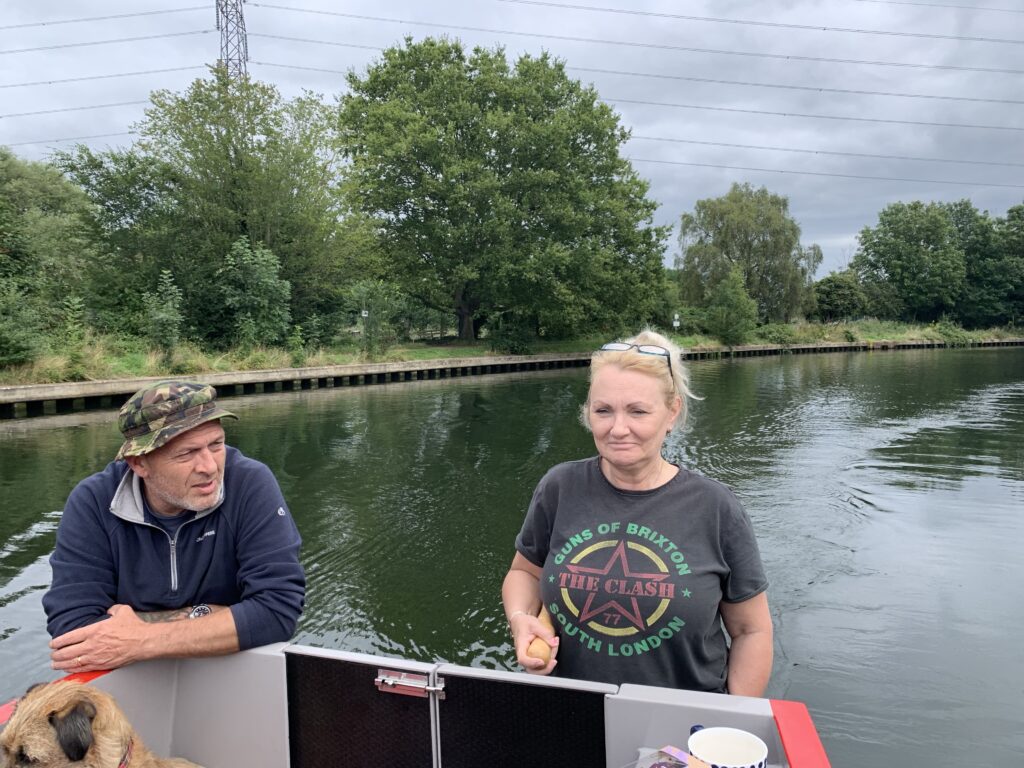 While walking the boys, Paul came across the Magna Carta Memorial and an art installation called "The Jurors" which represents "the changing and ongoing significance and influences of Magna Carta". There is also a JFK Memorial but Paul ran out of time to explore this one.
The next day saw us rock up to Windsor, where Sue and Paul went ashore for a look round. They found the same as we had on a previous visit – full of eateries and tat shops selling over-priced touristy bits and pieces. We had stayed behind and done some forward planning. Wise choice! Although they did come back with some very welcome Costa "frostinos", which went down a treat.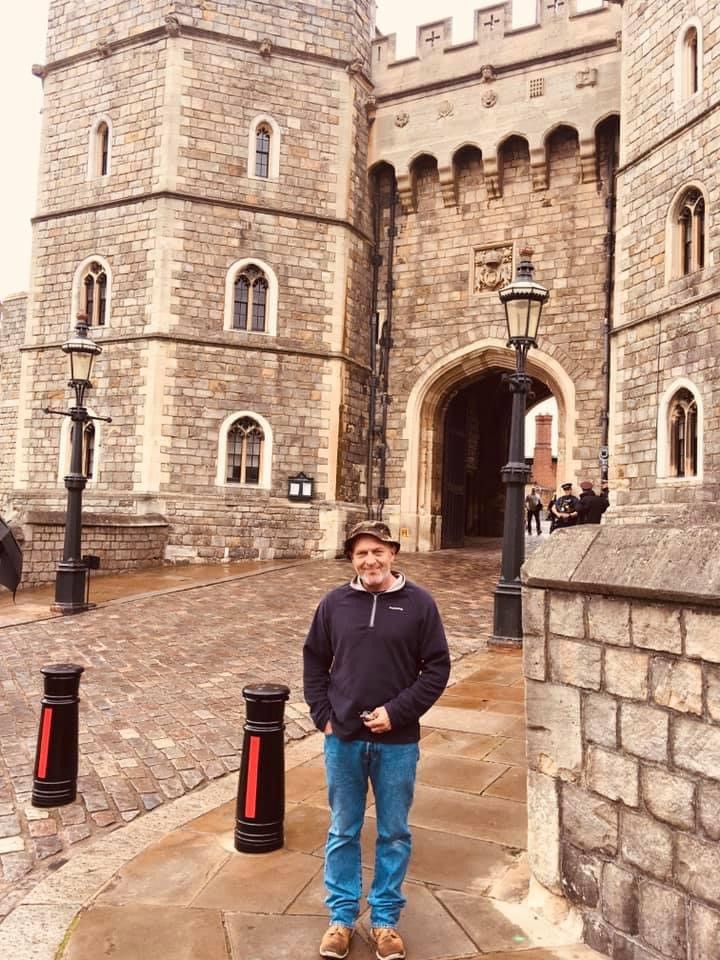 We had a plan for the next couple of days and so pressed on, through Bray, passing the divine and very Gothic "Oakley Court", where we saw a bridal party (and wondered how much that had cost!). They can apparently cope with reception catering for up to 500 guests!!!! We also passed Monkey Island – another wedding venue – where we spotted one of the staff having a crafty fag! I told him we could see him and he looked very cagey before disappearing back indoors. How we laughed. 
After Maidenhead, we arrived at Boulters Lock, only to find it was kaput! Ça ne fonctionnait pas! 
It seemed that an electrician was working on it, so we joined the queue and sat and waited. We hoped it would not be too long as it might scupper our newly hatched plans.
Luckily, whilst not fixed, the young lockie allowed a lock full of boats in. The gates had had to be opened manually, which is no mean feat, as they are designed to be electric. The lock-keeper was really great with everyone, especially a boatload of inebriated yahoos. And he was clearly well into his own time. What a great guy.
There was just enough light left to find a mooring near our lovely Cliveden. I think I have left a bit of my heart on that stretch between Maidenhead and Marlow . I'll go back for it some day soon. I certainly won't be leaving it 18 years this time. I'm not sure I'll still be here then!
But we had a great evening and Paul R actually caught a fish! Finally. And then there were fireworks and a laser display from Cliveden. Followed by a great moon and owls. Who could ask for more?
We got up early to make our way back to our favourite spot in Bourne End, stopping at Cookham lock for water. Yes! The tap has been fixed and has proper piping instead of what Paul would describe as "plastic crap". And no leakage. Spot on.
We arrived at Bourne End and found the perfect spot, tucked in at the end. And shortly after that Dominic turned up to collect the folks. Job done. Mind you, it was very quiet after they'd gone. Their week just flew by. Way too quick! But we know they'll be back. And tonight we'd get our lovely bed back.
The weather looked good so I bunged the washing machine on and got all the bedding washed plus all our dirty clothes. And it was sunny and breezy, so perfect drying conditions.
We'd chosen Bourne End as we had more friends coming up for a day out on the boat on Tuesday. It's the perfect place – good parking, which is not easy to find when you're on a boat on the river, armed only with Google maps, and easy access to the river. Sadly they were unable to come but we decided to stay anyway and I organised a last minute grocery delivery.
The Stand Up Paddle boarding rental place next door to where we were moored was doing a roaring trade. Paul fancied having a go and I encouraged him. He'd enjoyed wind surfing with his Uncle as a lad and this seemed the next best thing. He booked a slot for later in the afternoon. No going back.
The river was showing off that afternoon, with the sun making the water sparkle and sailing boats and cruisers charging back and forth. It actually looked more like the Solent. It was beautiful.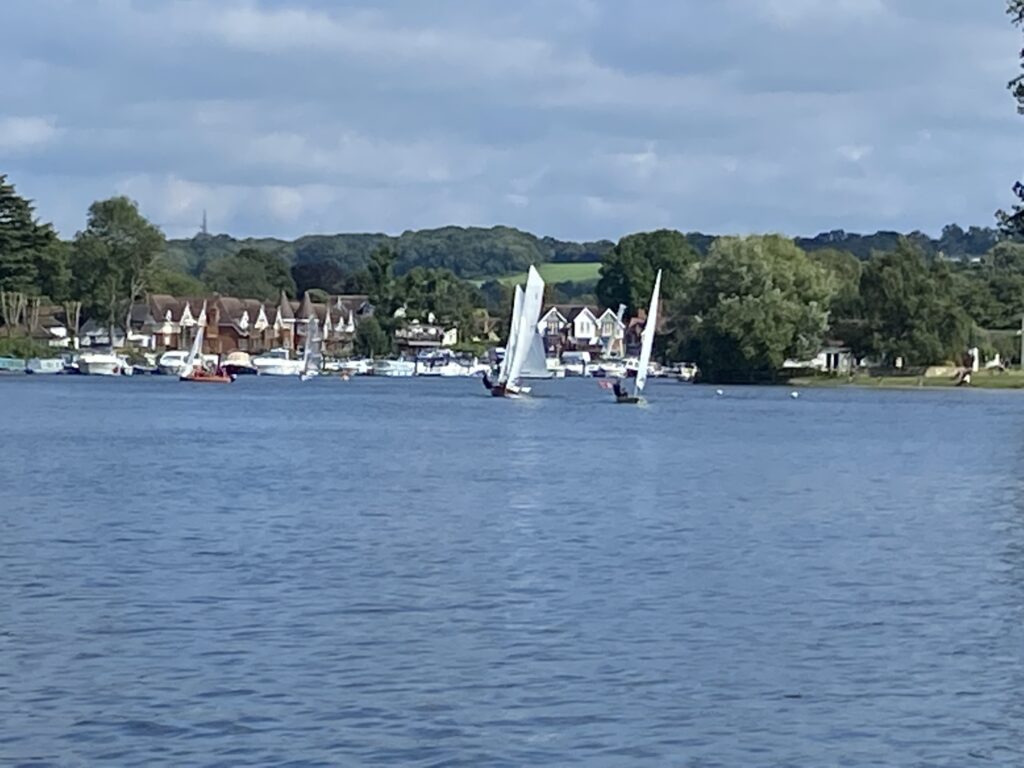 Very soon, it was time for Paul's SUP session. He got briefed – how to paddle, where to put his feet and stuff. And he was off – he paddled a short distance on his knees and then – just like that – he stood up! Admittedly, he only paddled a couple of strokes before he fell off, but he was straight back on and never fell off again. A real natural!
He thoroughly enjoyed his hour but said it's very intense on your calf muscles. He also said it was getting to be a bit boring. I don't think it's really for him, but he conquered and enjoyed it, so what does it matter?
We were both pretty tired and hit the sack around 9ish and pretty much immediately fell into a deep and very comfy sleep. Don't get me wrong – we sleep really well on our temporary bed and it's actually very comfortable too. But there's just something about getting into your bed without having to make it first!
Monday morning came all too soon – especially for poor Paul, who was back to work after a whole week off.
I spent the morning practicing crochet. Sue had begun teaching me at the tail end of last week. Others had tried and failed. Mainly because they were quite prescriptive about how the wool was held and how the hook should be held. Sue was much more relaxed and said I'd find my own way. She taught me the stitches and away I went! I'm rubbish, my tension is all over the shop, but I enjoy it and am prepared to put the time in to practice and get better. Go me! And many thanks to Sue for her patience. Not only that – she gave my hair a badly needed trim after over 3 months. Very pleased all round.
In the afternoon, Linda (from Marlow) and I had arranged a last cuppa and chat for a while. She arrived about 3 and we had a right good chat. It'll be a while before we meet up again, but the beauty of social media means we can always keep an eye on each other.
Tuesday (24th) meant moving on day, but you will have to wait for our next blog to find out more.