A look back at our Summer 2022 Cruise – who we went with
Our first guests arrived at Tewkesbury Marina for a day trip on our very first weekend on the River Avon – although we actually went up the Severn with them, as they live in a village right on the Severn's banks. It was a first time on Old Nick for both Maxine and Mark – although we had a done a canal trip with Mark many years ago. I don't even want to to think about how long! We had a really lovely day with them and Maxine took to steering like a duck to water!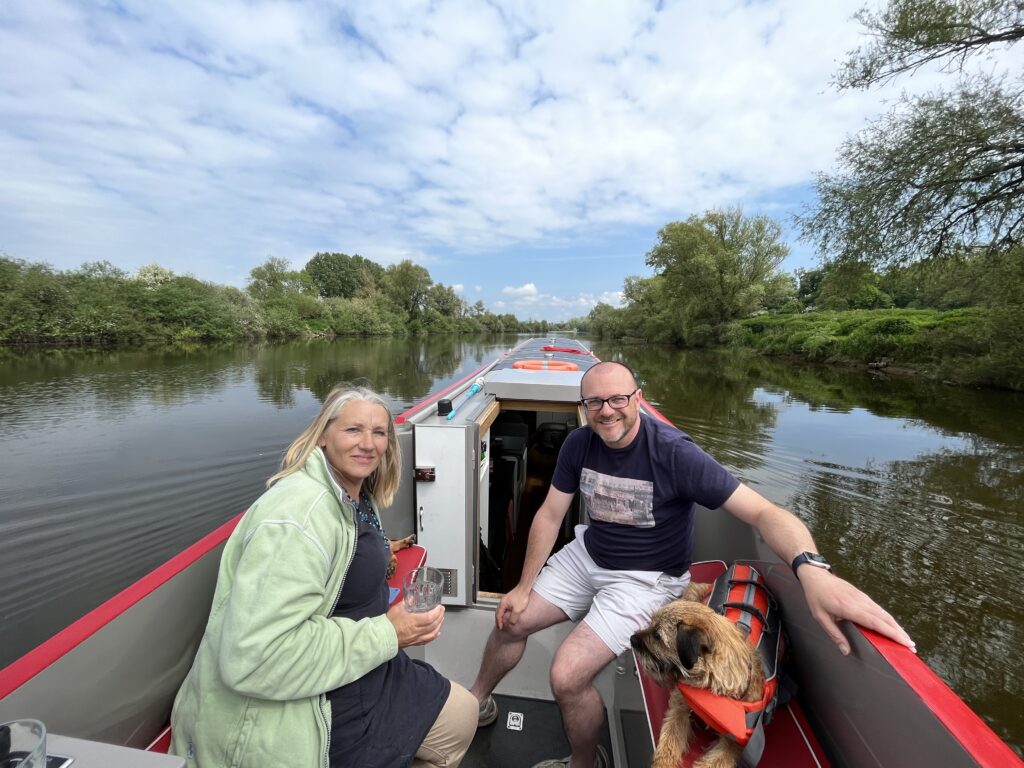 We met up with our friends Jonathon and Karen Warren on board Ortomarine-built Watt Knott – a parallel hybrid boat, in Pershore and had a lovely evening playing games. But our next set of guests proper – another day trip and another first visit – was my Cousin Andrew and his wife, Pam. What with Covid and all, it had been quite some time since we had seen them, so it was lovely to spend some time with them and show them Old Nick. We met them in Pershore and took them up past Wyre Piddle before winding and dropping back to the Anchor, where we had lunch and drinks, before we dropped them back at Pershore.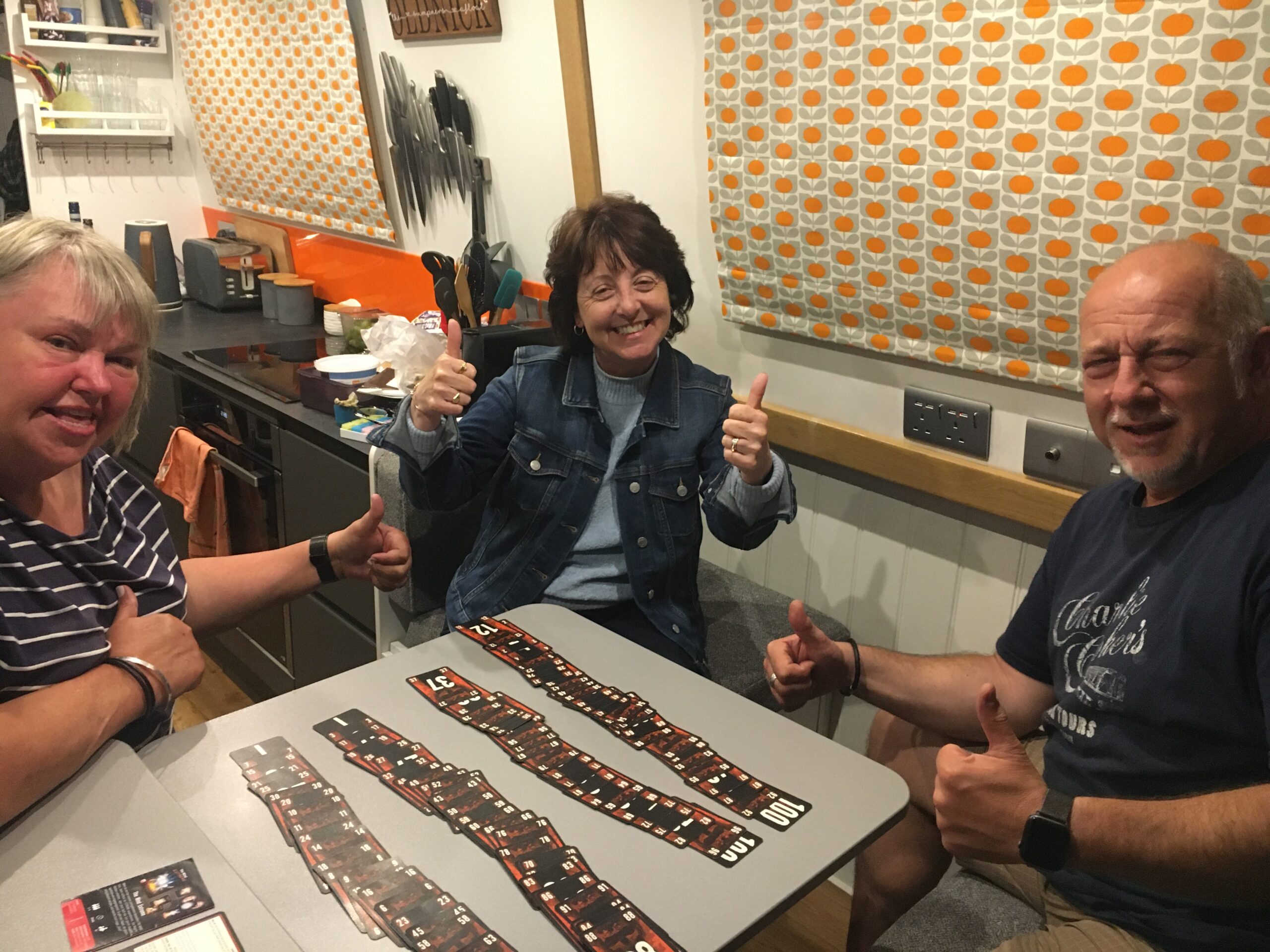 Following hot on the heels of Andrew and Pam were our friends Anne and Gray Robertson who are probably our most frequent visitors. We met them at Sankey Marine, just outside Evesham and took them to Pershore and back. The highlight was watching a veritable fleet of robot lawn mowers at a very large riverside property. And if that doesn't sound interesting, you really need to see it!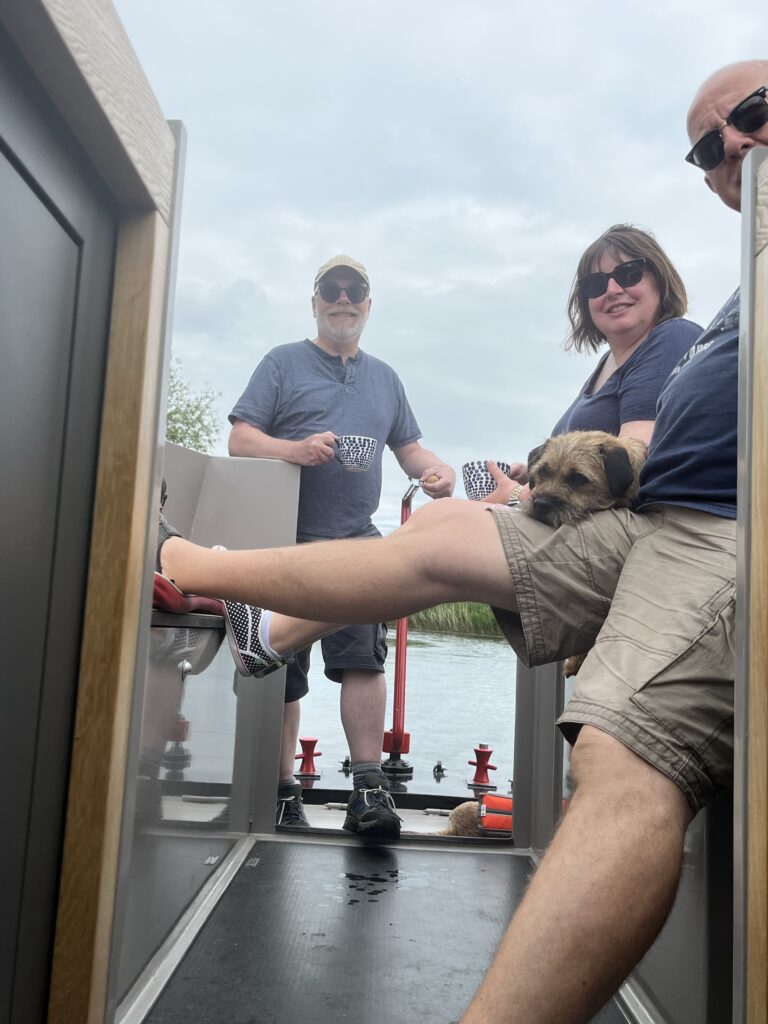 Jubilee weekend was rapidly approaching and it was time to welcome back our long term boating friends, Sue and Paul Rogers and their dog Lulu. The boys are always very happy to welcome Lulu on board and they play and sleep in each other's beds. It's very cute.
We had read about a brand new marina – Shakespeare Marina – opening on the river, near Stratford upon Avon and had rung to ask if we could moor there for a couple of nights. They were happy for us to moor but warned that not all the facilities were fully commissioned. It was that new! We were happy just to be allowed to moor there. What a treat. And that was where we met Sue and Paul. We had a really great Jubilee weekend, watching the Red Arrows putting on displays especially for us and also a mass of air balloons. We had a rather unfortunate encounter with some inebriated boaters in a lock – not pleasant, but you take the rough with the smooth – and we seem to get more smooth than rough!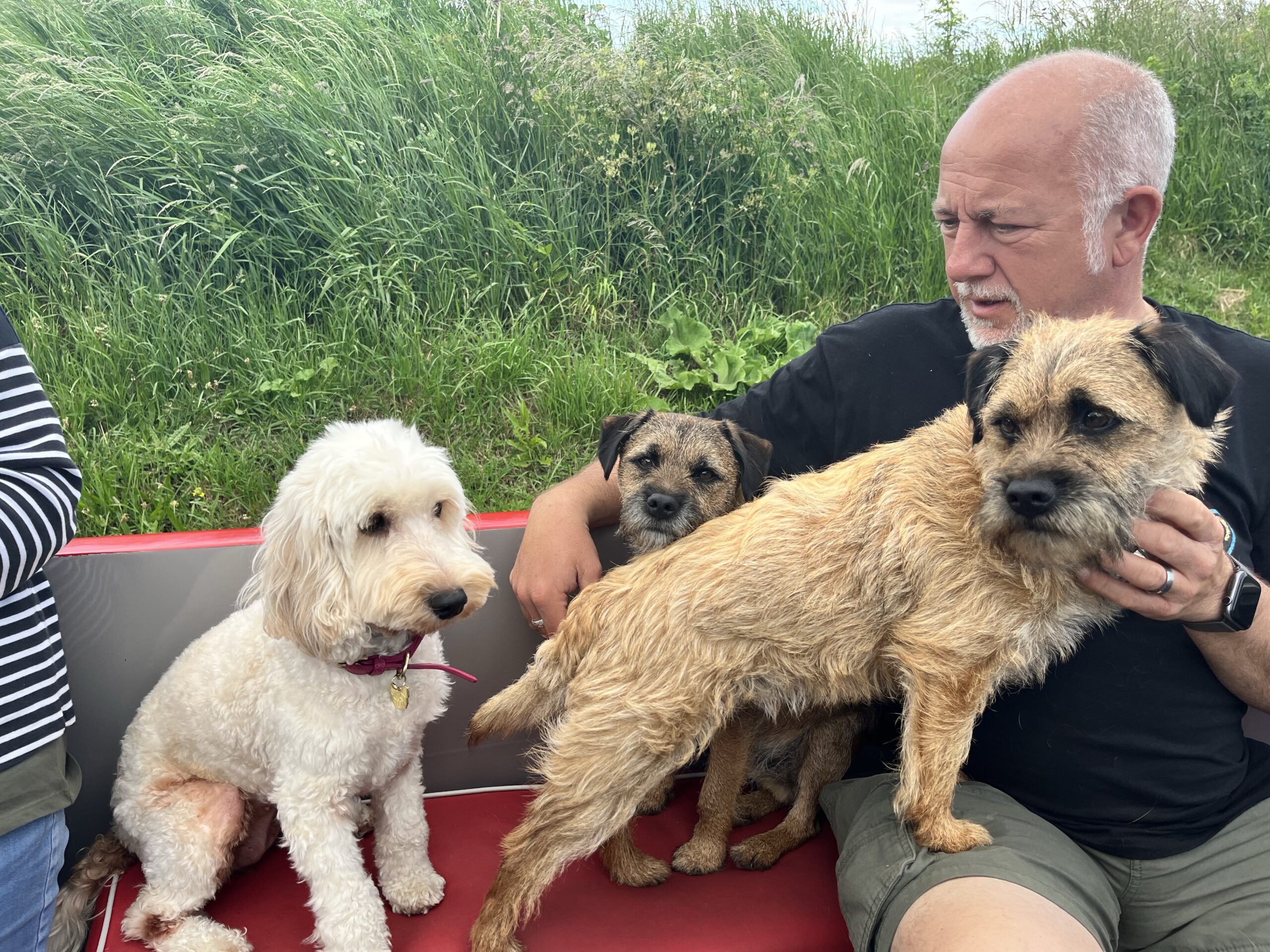 We left the Avon and made our way onto the BCN, going up the Tame Valley canal and thence to the Rushall Arm – a first for us. We met my brother, Bruce, at Longwood Junction and came down to Old Turn in the heart of the Birmingham Canal system. The weather was great to start with but it poured all day on his last day, so he and Paul went to the very swish Everyman Cinema at The Mailbox.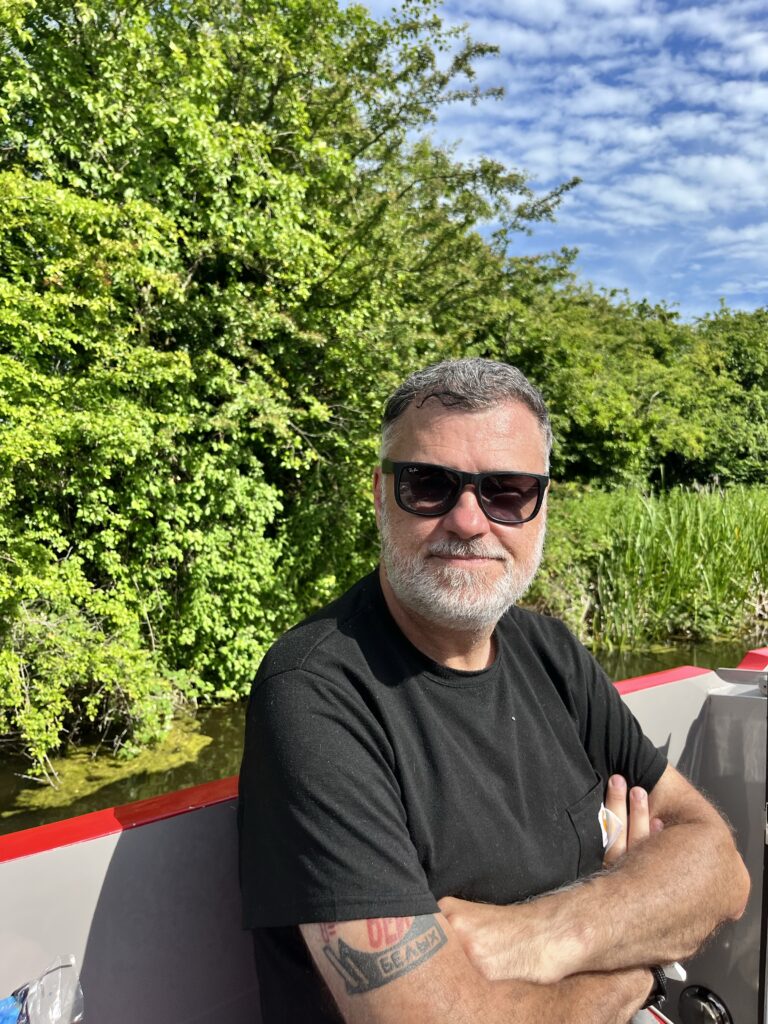 We took part in an event to publicise the canals of Birmingham, as part of the build up to the Commonwealth Games, and spent the day with celebrated YouTube vlogger, David Johns (Cruising the Cut). Sadly, we don't have a picture of him as it felt a bit "fan girl" to ask him to pose for one. But it was a great day, the high point of which was following N/B Wee May and being treated to the golden tonsils of Paul "Lumpy" Lumsden, another vlogger (Narrowboat Natterings) and thespian as we processed past Brindley Place, through Worcester Bar and on towards Aston. The weather wasn't perfect but we had a blast. David's account of the day can be seen here.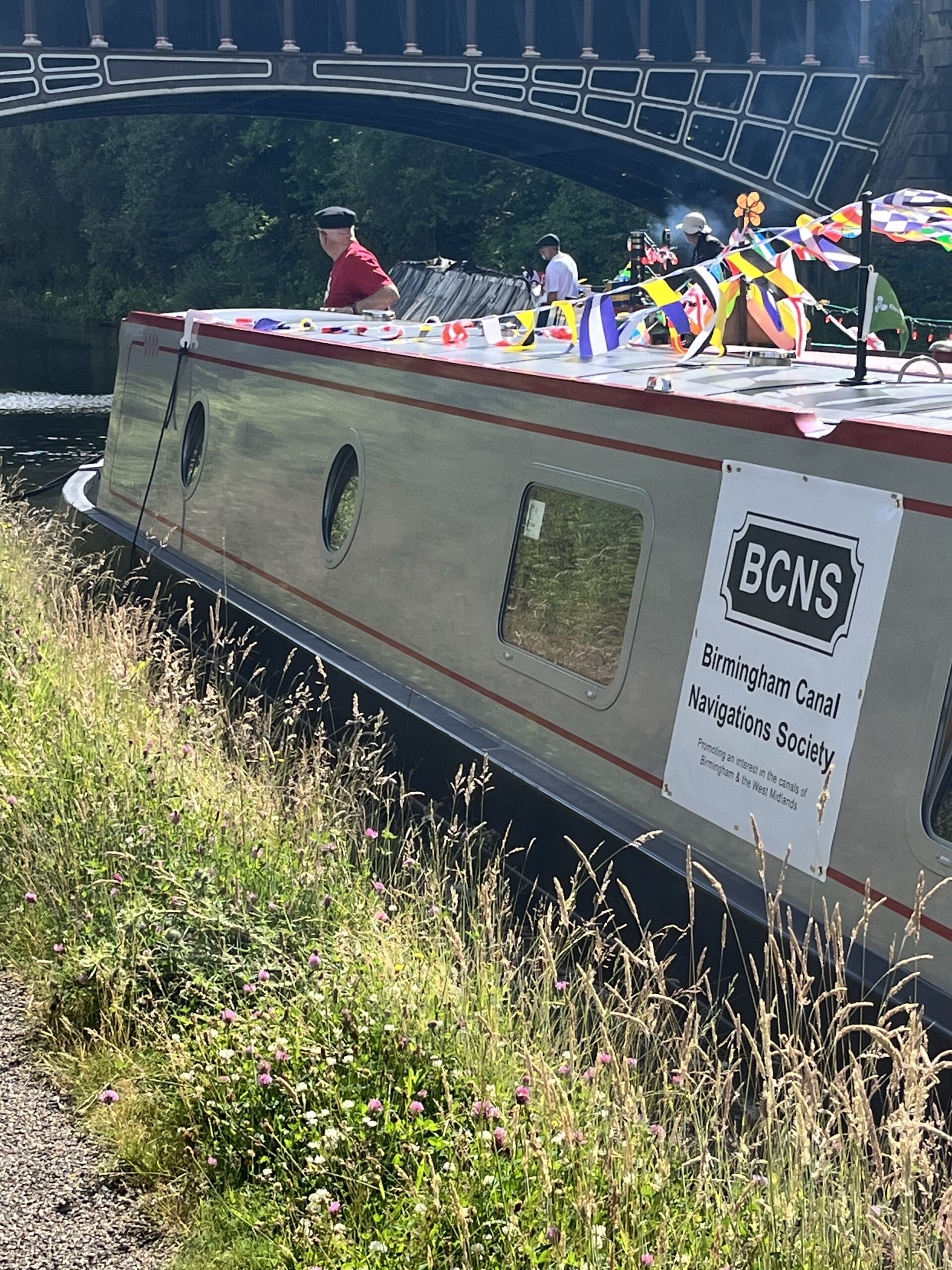 The very next day, we got up early and began our journey out of the BCN and met Ortomarine's Caroline and Rob at Cuckoo Wharf for a quick catch up and coffee. Lovely to see them even though it was a brief visit.
We carried on our quest to get a bit of countryside and went to Fazeley Mill Marina, where we had an impromptu visit from the perennial Robertsons. Anne had spent her formative years in Fazeley and had said that if we were were ever passing through, she'd love to visit by boat,. A quick phone call, once it became evident that we definitely would be passing through and had no-one else on board, and up they popped for a visit.
The weather was mixed for the weekend and there was one point when the skies dumped a very heavy load of water on us. We all disappeared indoors and left Gray to it! George's umbrella doing sterling work keeping him dry. Fine friends we are! Our trip took us up towards Fradley Junction and we winded at Huddlesford Junction.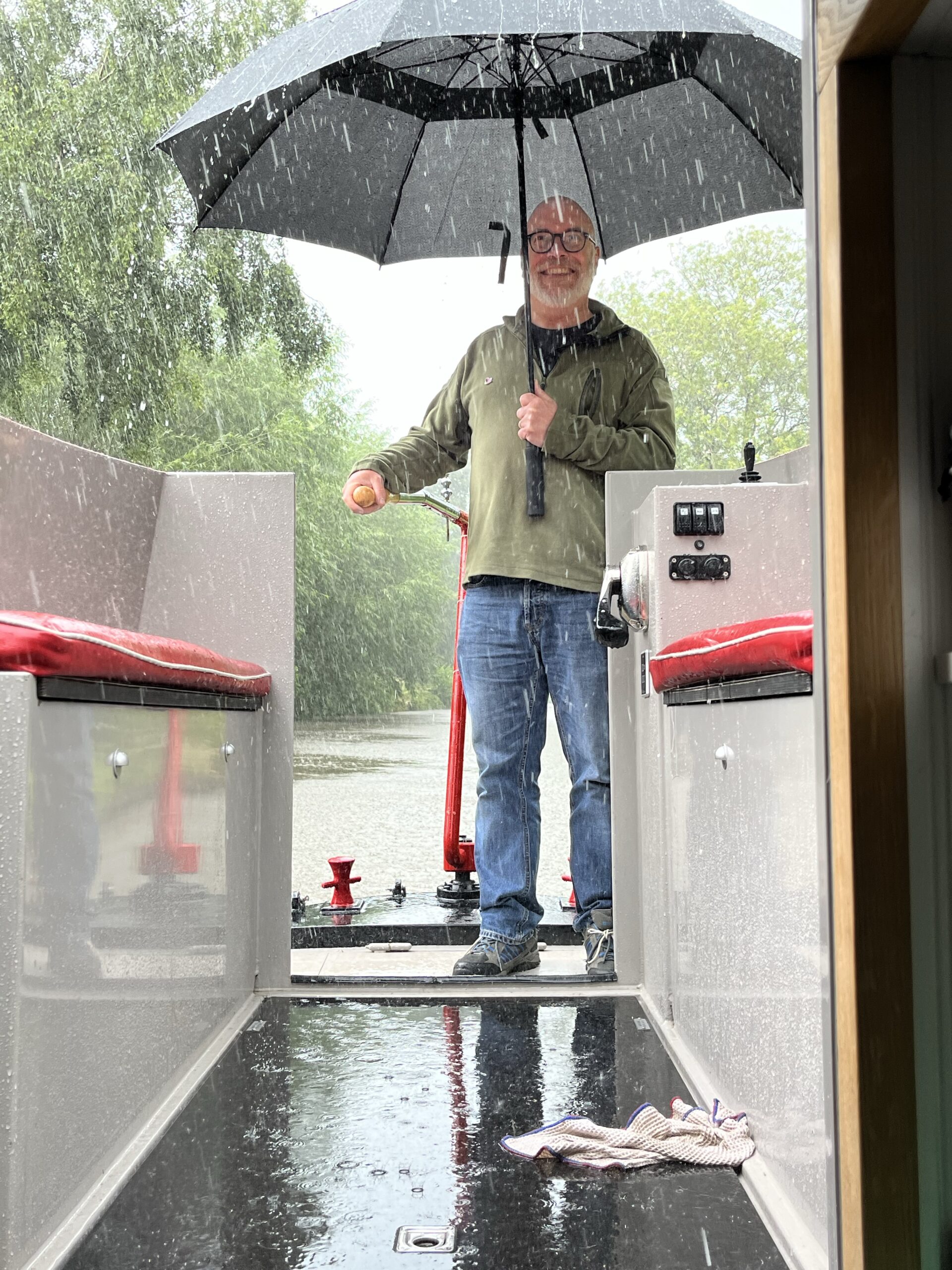 There was a slight outbreak of giggliness after several rounds of Pimms Sundowners that evening, which were a new and slightly lethal discovery for this year.
Next up were our lovely son and daughter in law, George and Bethany accompanied by Bethany's niece Florence, aged 4 and an absolute darling. It was so lovely to see them all – missing family and also friends really is the only downside of the life we have chosen. And a bit of FOMO. Florence was very excited and instantly took to boat life. We had the best day and I have to admit to shedding a tear when they went. Their visit had been short but very sweet.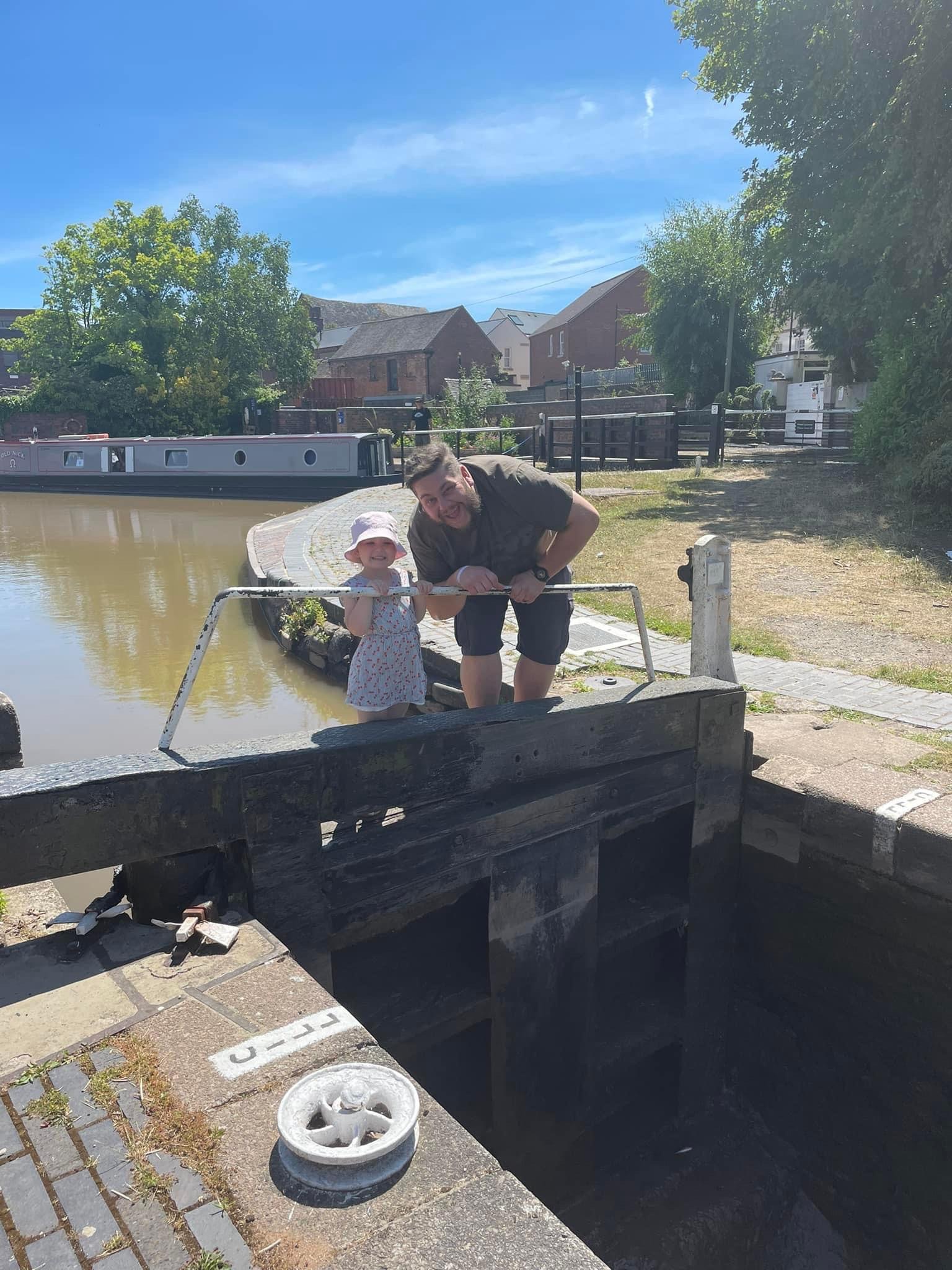 Our friends Kate and Paul Hansford were unable to come on their planned weekend due to work commitments and another friend, Jacquie Arnott, went and caught Covid, so she couldn't come either, on the following weekend. So disappointing for all of us. But we quickly rang some other friends, Peta and Steve Reading, who were on our "waiting list", and by the greatest good fortune they were free! This is something of a miracle as they are very busy people.
We met them at lovely Bosworth Marina on the rather lovely Ashby Canal and had a perfect weekend of laughter and cocktails. This was their first visit aboard Old Nick and they seemed very taken with it. And rightly so! We went to the terminus of the Ashby and sang both ways (they are fellow thesps) through Snarestone Tunnel, enjoying the great acoustics!. We had a visit on Sunday morning from Jehovah's Witnesses but we escaped unconverted. The chap was a retired engineer and had built a miniature electric narrowboat with enough oomph to pull his kayak along.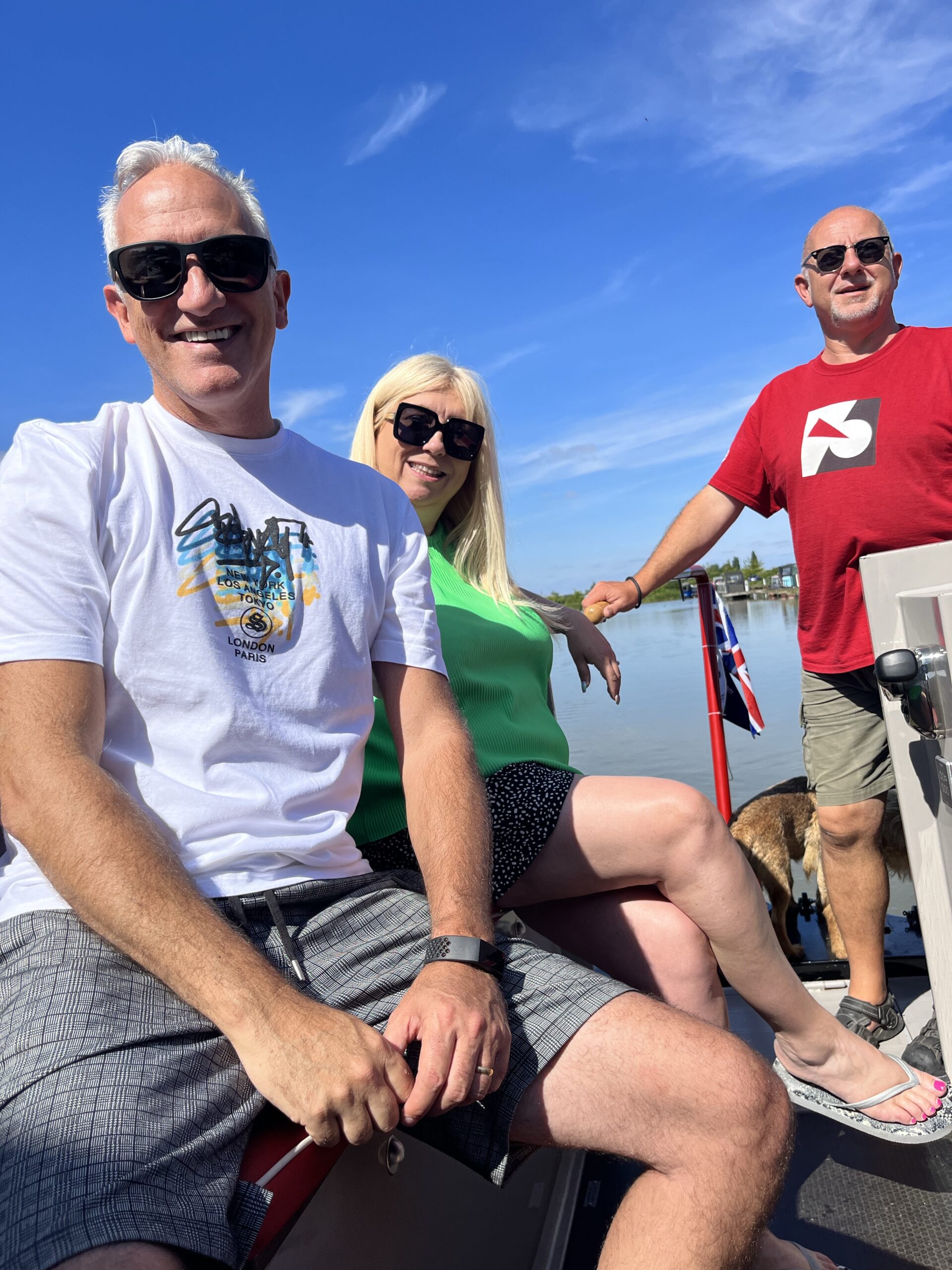 Next – while we were staying at Crick Marina on the Leicester Line, my ex work colleague Ellie and her husband Smithy came for a weekend. We had a great weekend catching up and laughing and inculcating Smithy – who had a hire boat holiday booked later in the year – in the ways of the canals – etiquette and steering and mooring and tying up and so on. Ellie, my camera shy pal managed to dodge the camera all weekend, but Smithy got papped at the helm. It seems to suit him!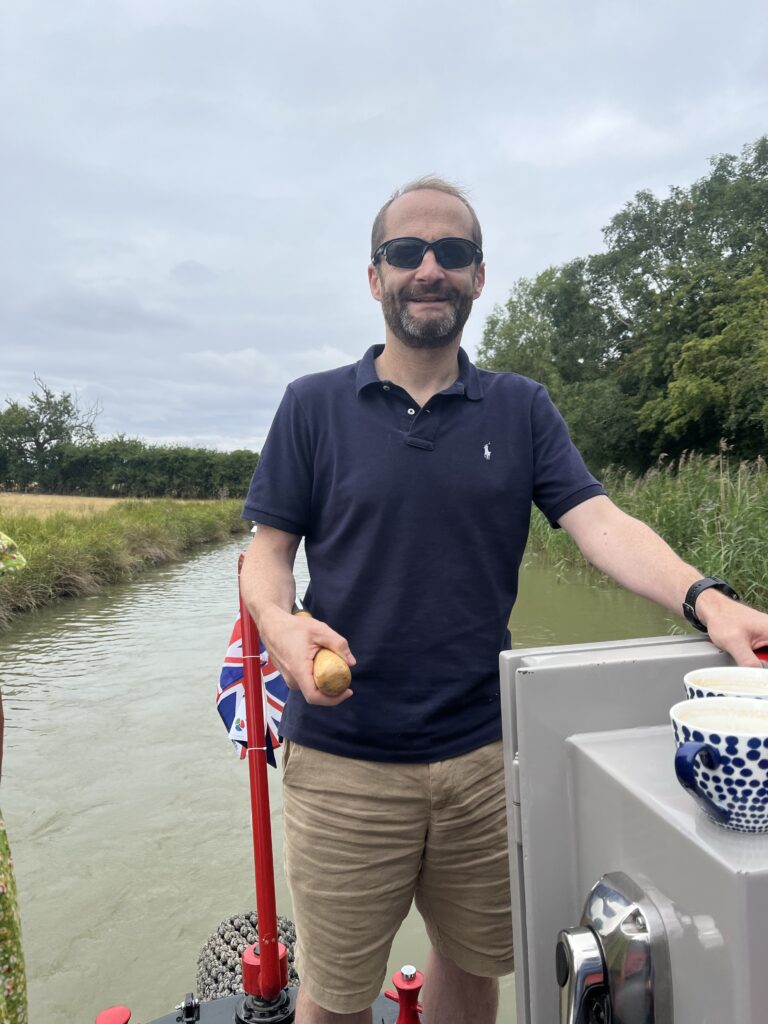 And hot on their heels came our friend – another thespian – Geri Blunden, who now lives in Bulgaria and was in the UK for a family wedding nearby. He came, with his lady friend Svetlana, for a day out on Old Nick. Svetlana – who spoke no English – was very taken with boat life and we had a lovely day – notwithstanding our communication difficulties.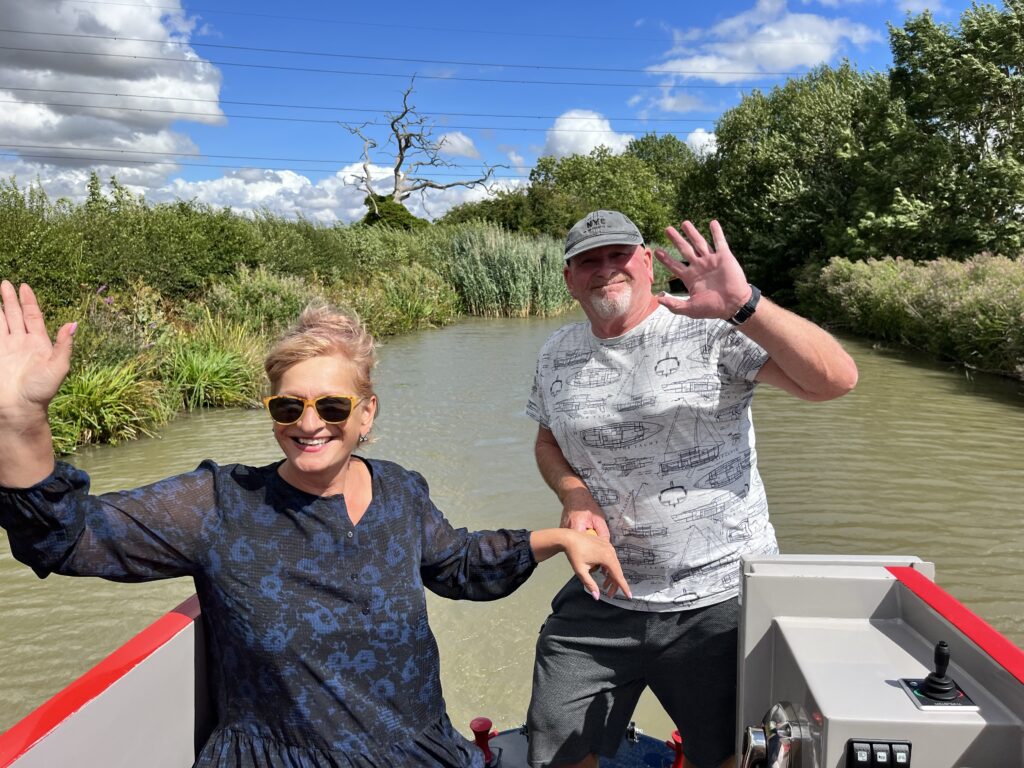 It was, by now, August already and the school holidays, so my nephew Lenny came on board with his dad. We met them at Crick, too, and we went down the awesome Foxton flight and down to Welford and Market Harborough with them, finishing up near Kilby. A week of good weather and one late night cruise, although I can't for the life of me remember why!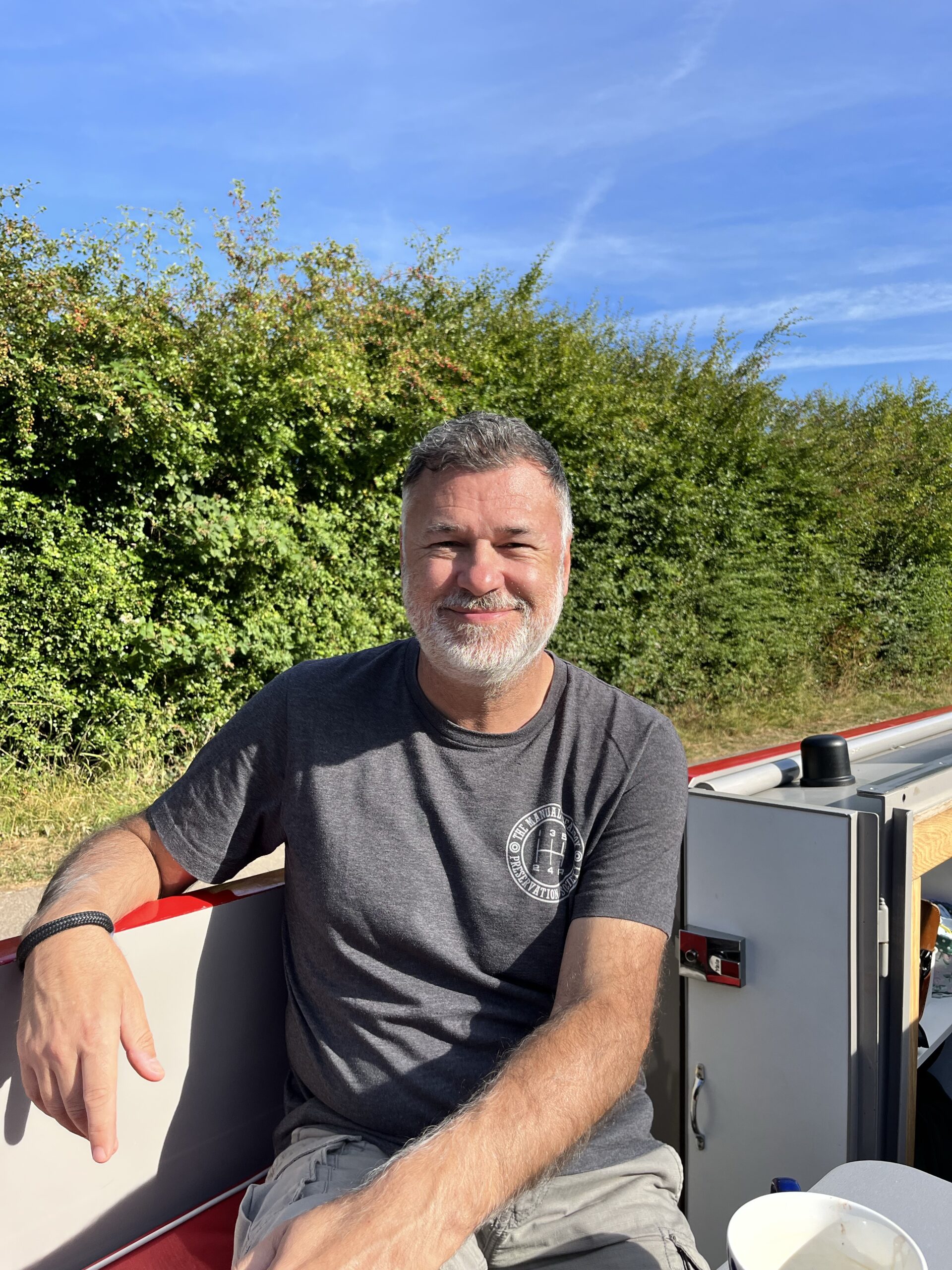 We had completed our cruise along the Leicester Line and also travelled the length of the navigable Soar before our next guests rocked up. Yet another thesp – Steve Arnott , with his fiancee Maria, arriving for their first visit. We met them at Sawley marina on the Trent & Mersey canal.
We had a poddle up the Erewash Canal with them and ended up being filmed, unbeknownst to us, for Towpath Talk at Sandiacre Lock. You can imagine my surprise when I saw it on the Towpath Talk Facebook page! I thought – that looks like Steve and then I saw Bill and Ted! It was us! We had been warned that the Erewash was pretty weedy, but we weren't quite expecting the weed in the picture below right!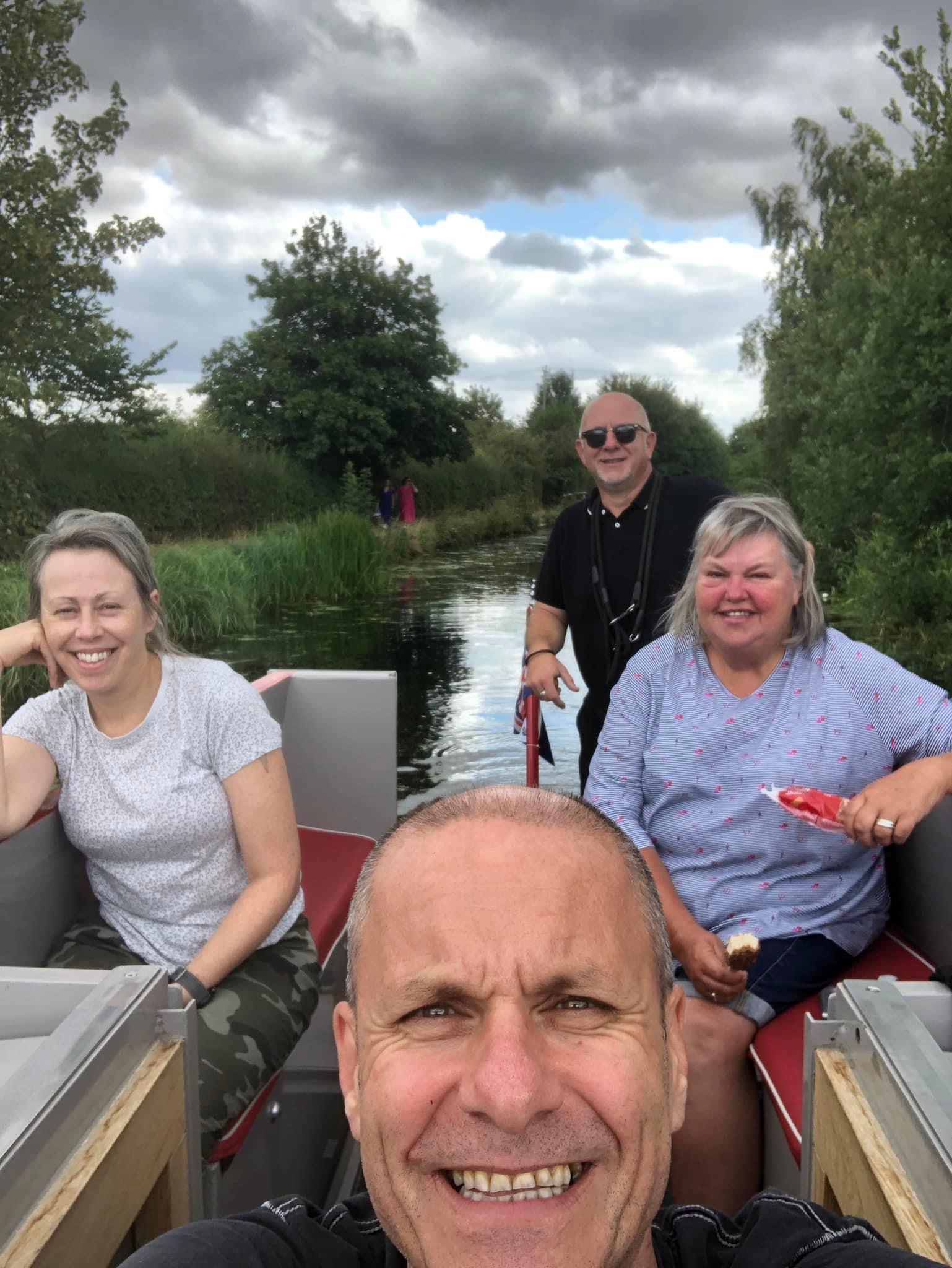 September brought another international guest – this time from Vancouver. My old work mate and Portchester Player's wardrobe mistress (another thespian link) braved the perils of train strikes to travel from Fareham, where she was staying, to Stafford to come and see us. We took her to the joy that is Tixall Wide and had a lovely long weekend with her.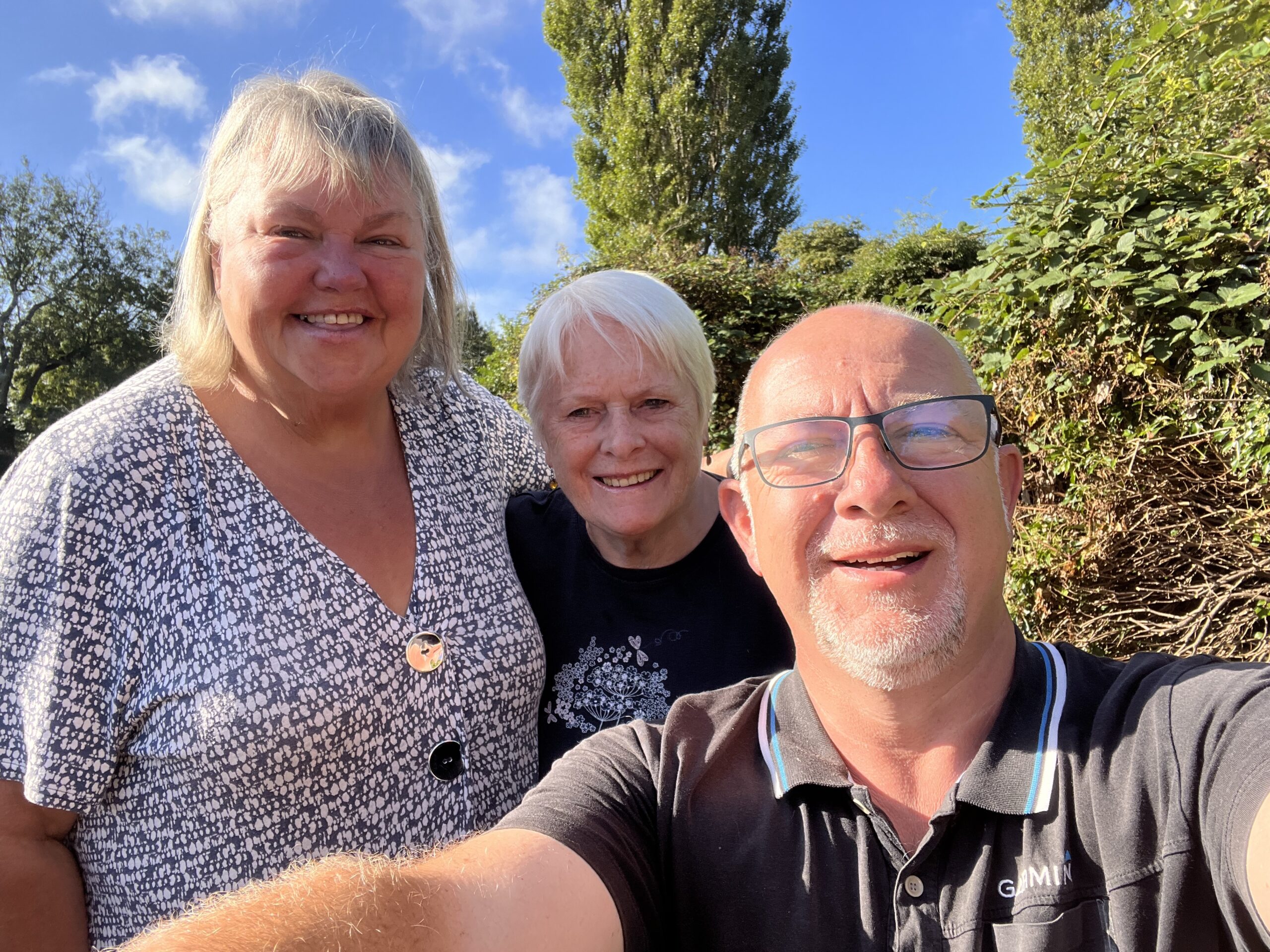 We met our almost penultimate set of guests, Nick and Sarah Holmes, in Coven Heath and immediately subjected them to a flight of 21 locks up to Wolverhampton. To their credit, they did not flinch and we were soon at the top and turning on to the Curley Wyrley. Our livers took a bit of a flogging that weekend, with the most delicious Espresso Martinis and Frozen Margaritas. But we had lots of laughs and were sad to see them go – as we always are when our friends go home. The word of the weekend last year when they visited had been "Bunnies", this year it was "Fish!" Yes. You had to be there!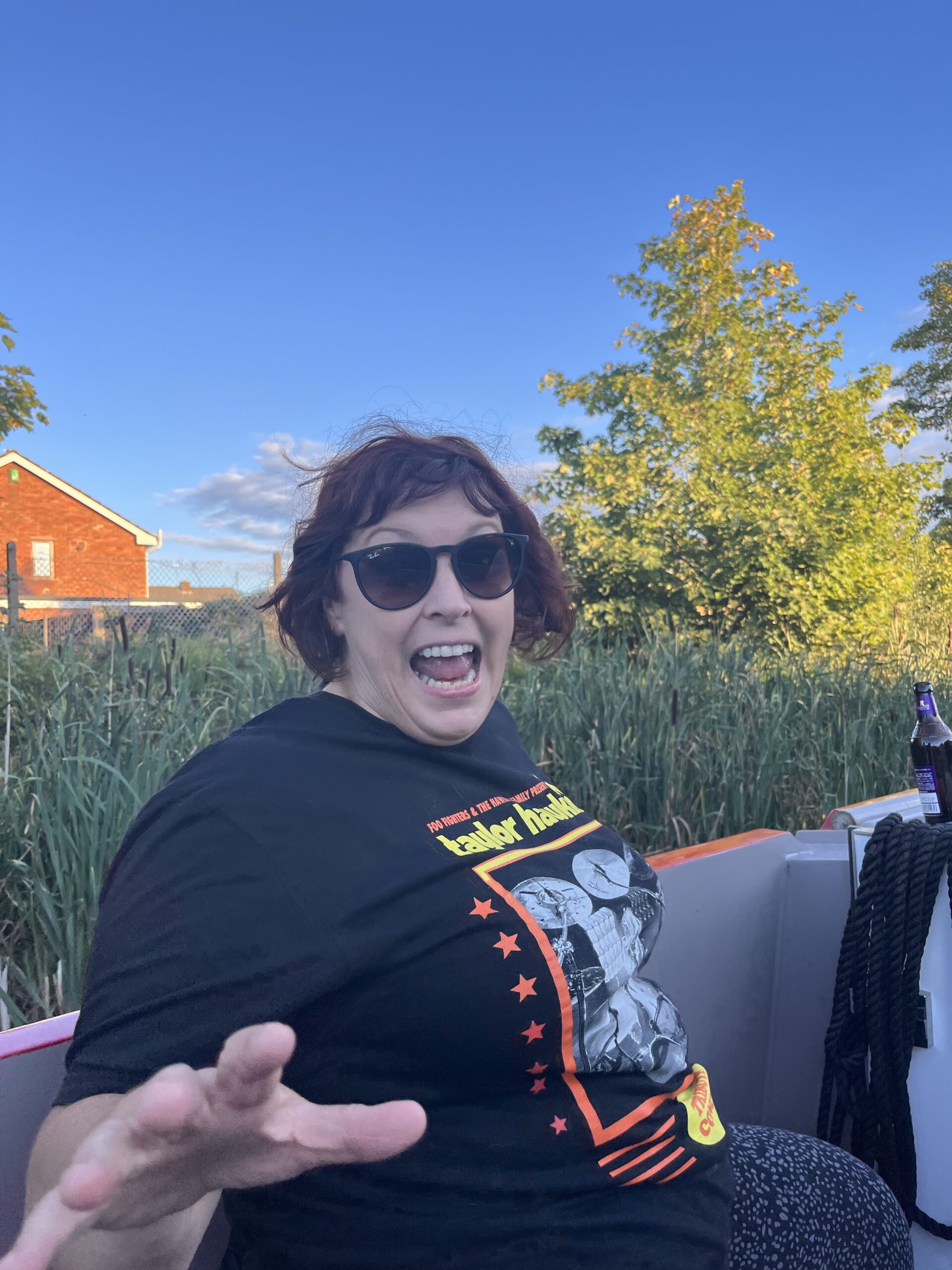 We made our way, by a fairly circuitous route, to Dudley and this was where our old pal (of 40 years!) popped over to see us. We had not seen him for yonks and it was a real pleasure to welcome him on board.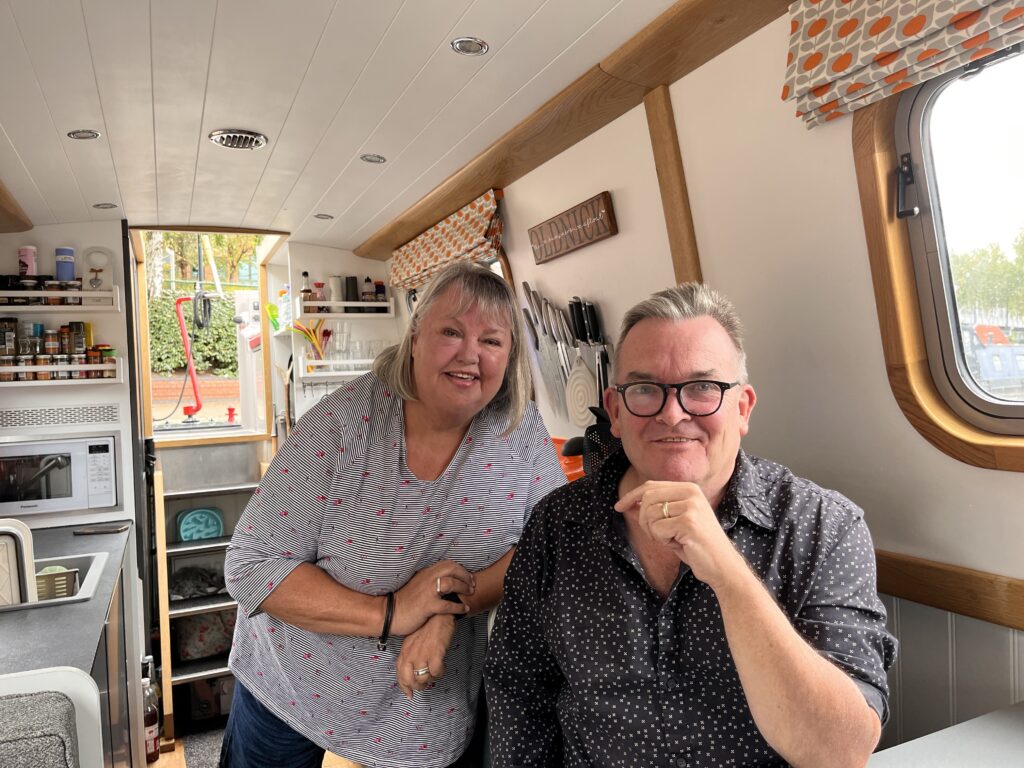 And last, but by no means least it was the Stubb Family Robertson, aka Anne and Gray, turning up like bad pennies (they'll kill me). I think we need to start some sort of loyalty scheme – a bit like Air Miles – maybe call it Cut MIles – or perhaps Half Cut Miles? We could give prizes for people who had accumulated the most Cut Miles each year, perhaps? A golden windless or something? Well – maybe brass?
The Robertsons were our last guests of the summer season – although we've already had visits from my cousin Deborah and my brother Bruce in the few days since since we've been back! And are anticipating more. Not that we are complaining! We love seeing everyone and are so very grateful that they make the effort.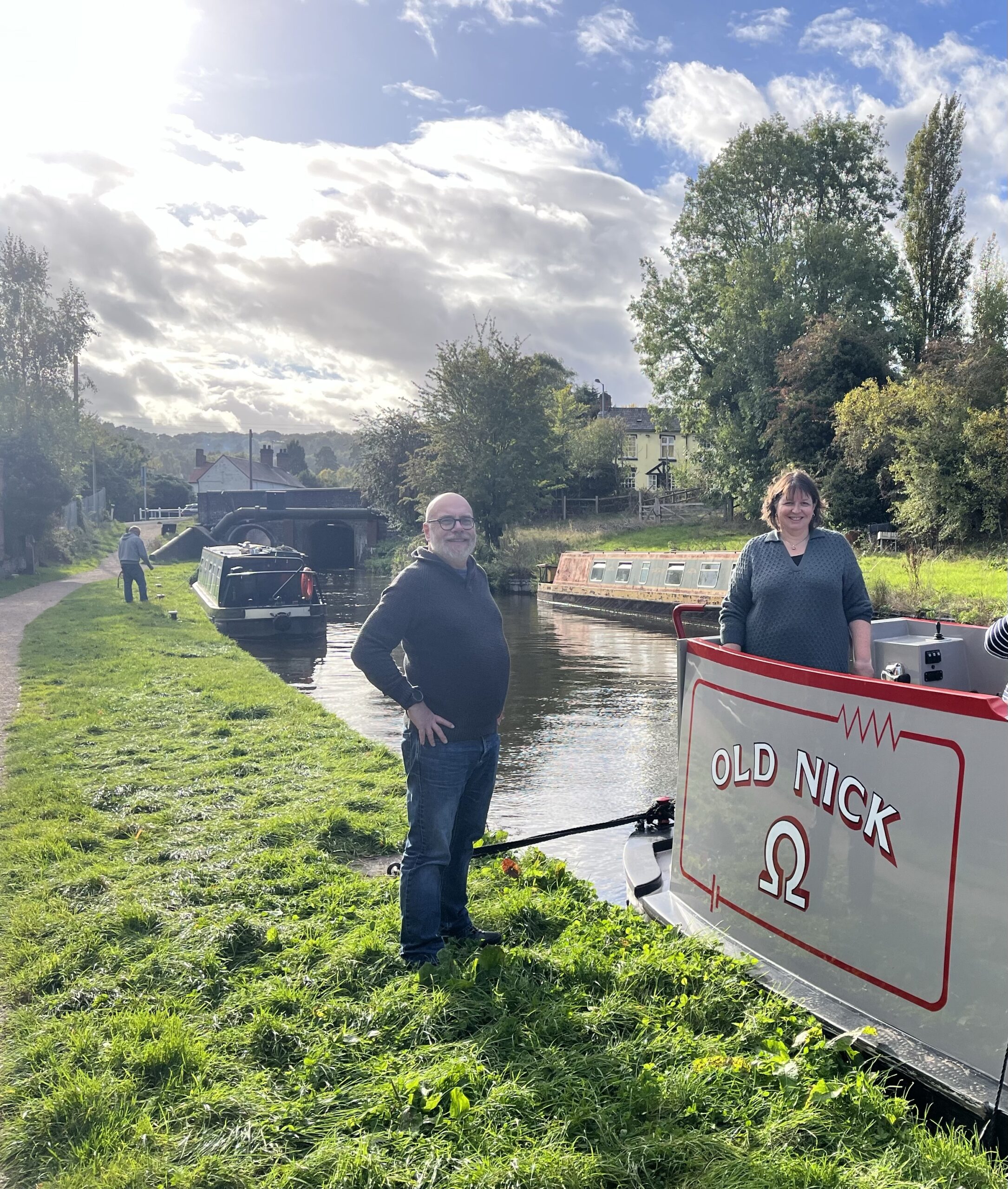 You might have noticed that we very often meet our friends in a Marina. This has quite a few benefits. We get to visit a new marina and scope it out, grab a chunk of shore power and use their facilities Washing machine, showers etc) if we need to, and also get groceries delivered so that we can feed and water our guests. But the main reason is so that our friends get to leave their car somewhere safe and reasonably secure. It's not cheap, but it's win win in our opinion. Sadly, it's not always possible, but we do our best and look forward to welcoming more people over the Autumn and Winter. Cruising in the chillier weather can actually be really lovely. You can wrap up warm and come indoors to a hearty bowl of soup and a cosy boat. Can't beat it.