We wanted "Old Nick" to be an electric narrow boat, but as with all things in life, there were a number of different "flavours "of electric engine designs and we had to decide which one would be best for us.
The simplest is the "All Electric" design, where you have a single electric engine, a big bank of batteries and a means of charging them.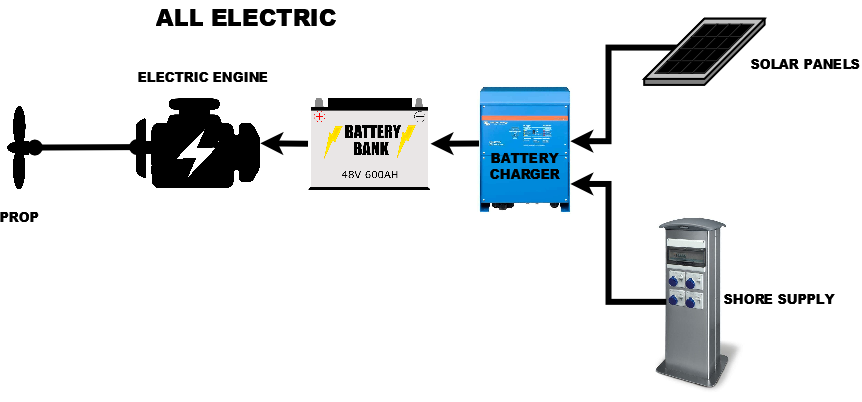 This design works well for vessels that are doing short trips and always returning to base at the end of the day, where they can plug in to the shore supply, ready for the next day's cruising. A lot of "Day Boats" operated by hire companies are moving to this type of design and Ortomarine have already built two large "All Electric" Trip Boats.
For vessels that are cruising for longer periods, over greater distances, such as private holiday boats and continuous cruisers, a different design is required. One of the first commercially successful designs, was the parallel electric hybrid, of which there are now many installations on UK canals and Ortomarine have already built six of these designs.
In parallel hybrid systems, you have two engines; one diesel and one electric, which are linked via a special transmission system. Both engines can drive the prop shaft, with the electric engine being used most of the time, but when the batteries get low or some extra horsepower is needed, for instance on a river section, the diesel can take over or in some systems both engines can work together for maximum power.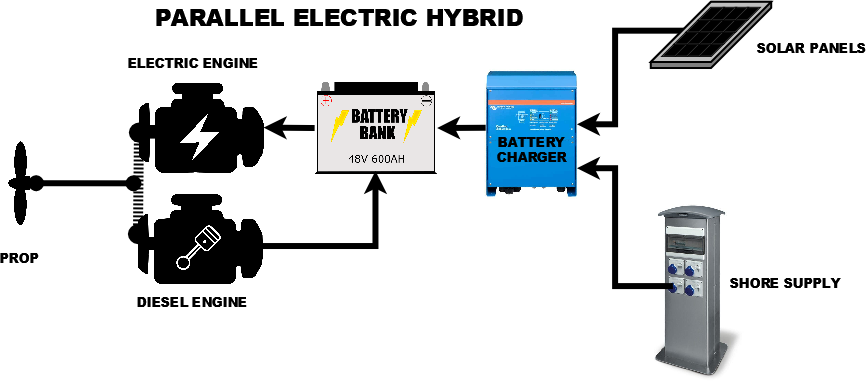 With recent improvements in battery technology and electric engine design, a new, third flavour is now starting to appear on UK narrowboats, and that is the Serial Electric Hybrid.
In a serial hybrid, there is a single electric engine driving the prop shaft, but if the batteries start to get low, a small, quiet and efficient diesel generator can be started that will charge the batteries whilst still underway. With a good solar setup (1200W or more), the need to run the generator in summer months is rare and in the autumn/winter, a night or two on a visitor mooring in a marina, on shore power, will soon top up the batteries.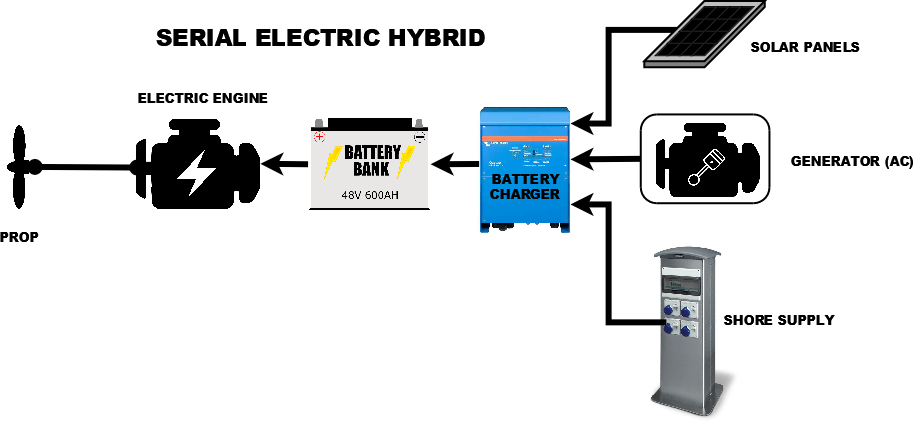 Taking all of the above in to consideration we decided to go for the latest Serial Hybrid solution, for "Old Nick". The main reasons being;
Quieter and more practical generator charging
When diesel is used for charging, more efficient, fixed RPM generator
Wider choice of electric engine manufacturers
Latest technology
Currently, it is not possible to completely eliminate the use of diesel on a "continuously cruising" narrowboat, but in conjunction with the other changes we are making, we should significantly reduce our diesel consumption and environmental impact, of this boat.
Looking around, there are not that many Serial Hybrid Narrowboats, but hopefully our adventures with "Old Nick" will inspire more people to look closely at this new and exciting technology.